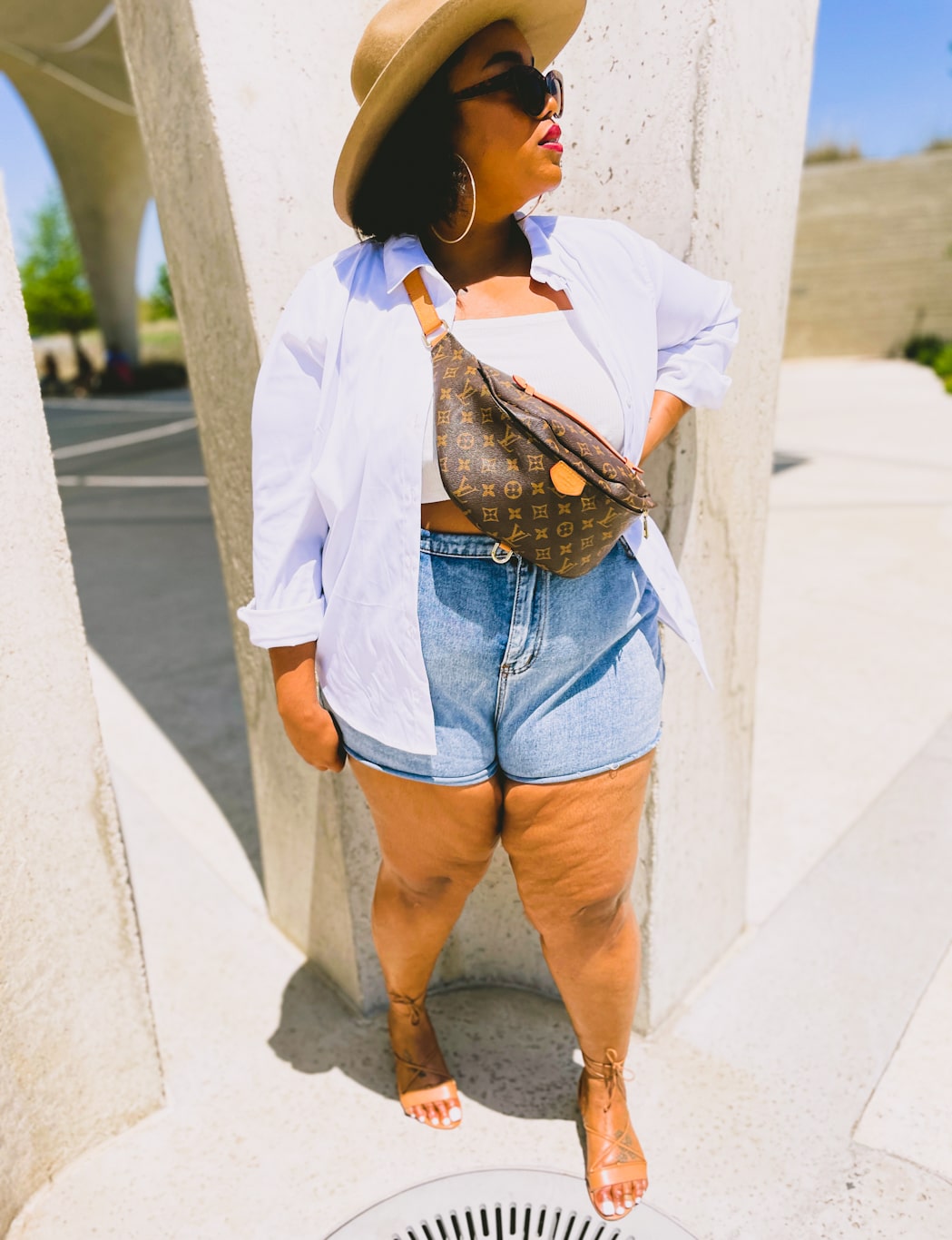 The BEST Plus Size Denim Shorts for the Summer
It is SUMMER Time! Break out those legs in a banging pair of plus size denim shorts
It is a truth, universally acknowledged, that you cannot have hot girl summer without the proper pair of plus size denim shorts.
It's just not possible.
I know shorts can be a very polarizing topic in the plus size community; many of us grew up afraid or ashamed to wear shorts, we worried about our legs and cellulite and how we would be perceived by our peers, etc. I totally get it. But girl, I am here to tell YOU: THEY GON' GET THIS CELLULITE THIS SUMMER. 
I did the legwork and found some amazing plus size jean shorts. I have different price points, different styles, size inclusivity. Basically girl, I got you covered 😉
Where to buy affordable plus size jean shorts
2022's Hottest plus size Jean shorts trends
Plus Size Boyfriend Shorts: Much like the casual chic feel of mom jeans (which Gen Z declared was back in style), boyfriends shorts are super relaxed, come in a variety of lengths, and a bit retro. I love them (I'm wearing a pair from PLT below). Especially in the ultra trendy faded black we're seeing these days
Plus Size Distressed Shorts: This should come as no surprise. Distressed denim is a staple at this point and super distressed shorts are perfect for day drinking LOL
Plus Size Overall Shorts : The 90s are calling and we are ANSWERING. Overalls seem to be coming back in a big way and overall shorts are making their rounds! I love the idea of wearing them with one clip undone, slouchy and with a cropped tee and converse (talk about healing your inner child lol)
There are plenty of other styles out there: paperbag shorts, high rise, midrise, acid wash, etc. You can really go all out with the shorts. If you need a little direction, scroll to the bottom of this post and I've got a huge list of shorts.
My Big Fat Guide of Plus size denim shorts you can buy in time for hot girl summer
I hope I've convinced you to show those legs this summer, and not worry what people think. In case you need a few body positive affirmations to get you in a good place for shorts season: check out my freebie!
TEN BODY POSITIVE AFFIRMATIONS I USE EVERYDAY IN MY JOURNEY TO SELF-LOVE
I've got a ton of great options for you below in case you need to cop a pair of denim shorts for hot girl summer.
My Pick for: Plus Size distressed denim shorts, plus size overall shorts and plus size denim bermuda shorts
FTC: This post contains affiliate links.  Whenever you purchase something from one of these links, I earn a small commission at no additional cost to you. If you purchase items from one of the links, you help me continue to create great content for you! Thank you!
Shop My Looks!